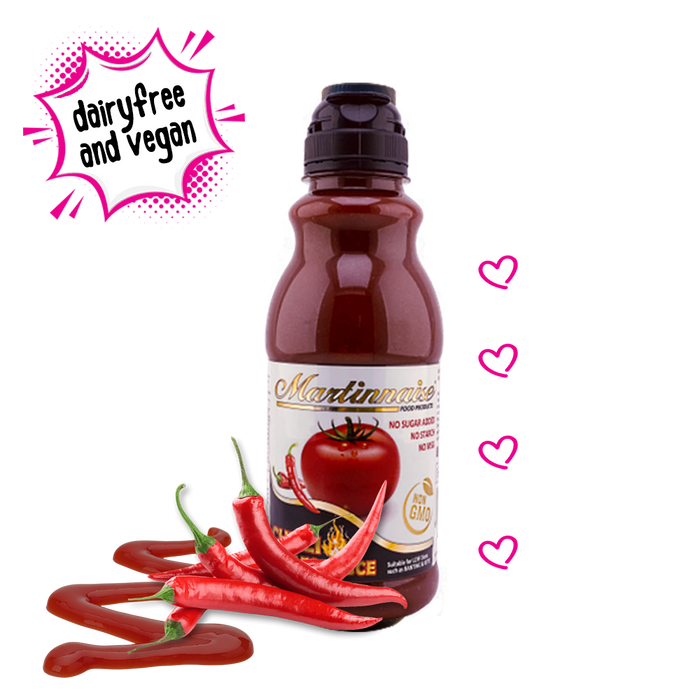 Sauce: CHILLI Tomato Sauce 500ml
Original price
R 76.00
-
Original price
R 76.00
Suitable for Vegans, Diabetics, those with Coeliac Disease, the Health Conscious, and those following a Sugar-free, Gluten-Free, Dairy-Free, Banting, Keto, or Low Carb Lifestyle!
Martinnaise's Sugar-free, Dairy-free, and Gluten free Chilli Tomato Sauce contains absolutely no artificial sweeteners and is absolutely perfect for Diabetics, the health-conscious, or for those who follow a Low Carb, Keto, or Banting lifestyle! This product is preservative-free, non-GMO, and does not contain MSG. It adds all the fun of tomato sauce to your meals but with spicy attitude. If you love chilies you got to do at least one rodeo with this one.

Ingredients are all Kosher and Halaal Certified.
Ingredients
Purified Water, Tomato Puree (25%), Raw Unfiltered Apple Cider Vinegar, Erythritol, Xylitol, Fruit Fibers, Himalayan Crystal Rock Salt, Citric Acid, Xanthan Gum, Spices. Allergens: None
Nutrition Facts
Serving Suggestions
How does one begin to suggest a use for tomato sauce! It is quite simply really, PUT IT ON EVERYTHING! In our family we put it as a first layer for our low carb pizzas, we use it on our low-carb boerrie rolls and on Banting burgers. When creative inspiration strikes at home base, we use it in our own mixed sauces, dips and basting . It is lovely with grilled fish and so much more because tomato sauce is just so universal in its applications.

View ALL Products | Help | Register | Login