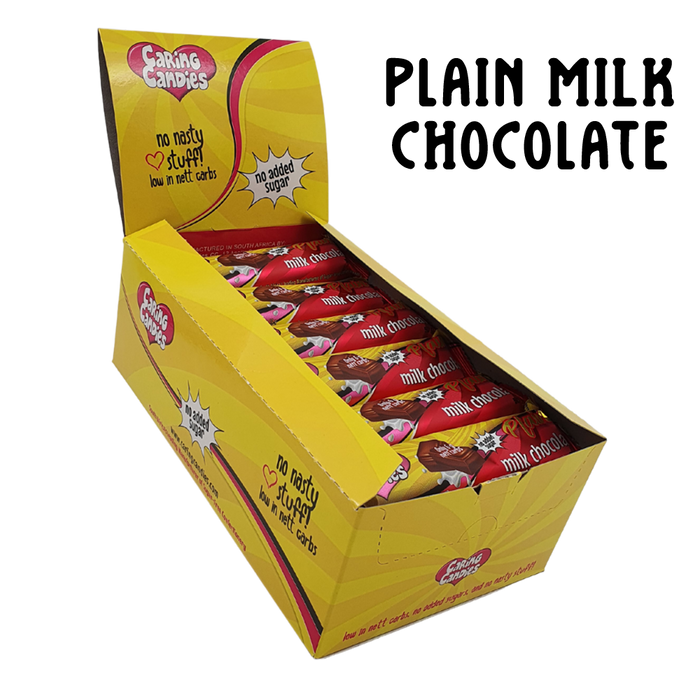 Bulk Saving: 30x50g No Added Sugar PLAIN MILK Chocolate shipper
Original price
R 565.50
-
Original price
R 565.50
Suitable for Lacto-Vegetarians, Diabetics, those with ADD/ADHD, Coeliac Disease, the Health Conscious, and those following a No Added Sugar, Gluten-free, Low Carb, Keto, Banting, Kosher or Halaal Lifestyle!
INGREDIENTS:
Maltitol (powdered)
*
, Cocoa Butter, Whole Milk Powder, Cocoa Mass, Sunflower Lecithin, Natural Vanilla Flavouring.
ALLERGENS:
Contains Cow's Milk. May contain traces of Tree Nuts and Soybeans due to shared facilities. Allergen Control Program in place.
*Please note that maltitol comes in two variants - maltitol syrup, which has a high gi, and maltitol powder, which has a low gi.

We naturally use the powdered maltitol with the lowest gi

.
STORAGE INSTRUCTIONS: Store in a cool, dry place away from heat. If chocolate products become too warm the cocoa butter separates causing a white/greyish "bloom" on the surface. The chocolate is still perfectly safe to eat, but does not look as appetizing ;)
POSSIBLE LAXATIVE EFFECT: Sugar-free products work in the body like dietary fibre. For this reason, we recommend you limit yourself to around 25g (half a chocolate bar) per day in the beginning to avoid a possible laxative effect.
SHELF-LIFE: 1 year from date of manufacture.