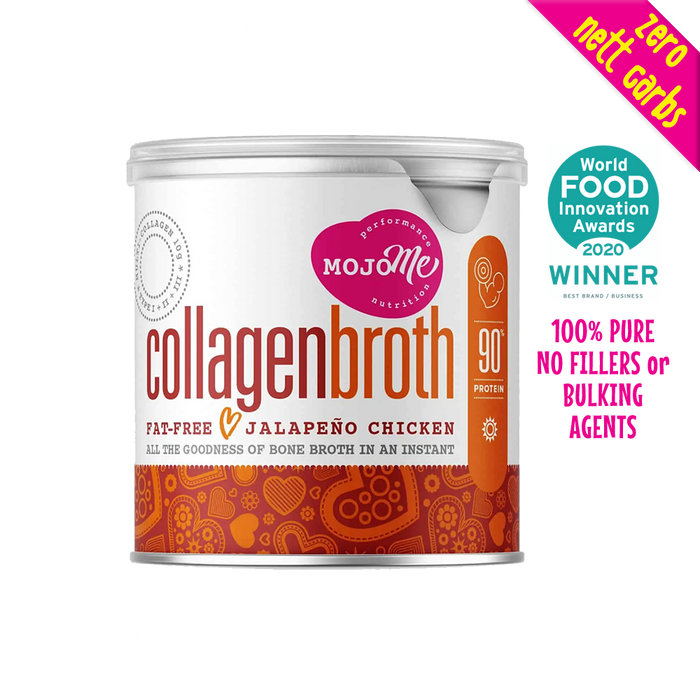 Collagen: Bone Broth JALAPENO CHICKEN flavour 250g
Original price
R 359.00
-
Original price
R 359.00
Collagen never tasted so good! Enjoy all the goodness of bone broth in an instant. Replenish the collagen you want and the hydration your body needs for radiant younger-looking skin and more flexible joints while keeping bones strong and contributing to a healthier immune and digestive system.
Multi-Collagen Types 1, 2 + 3
Fantastic for SKIN | HAIR | NAIL | GUT HEALTH
**PLUS** TRIPLE-ACTION SUPPORT FOR JOINTS | CARTILAGE | BONES
We combine multi-collagen Types I, II + III with gelatin with a warming hint of Jalapeno and the perfect blend of herbs and spices to create a great tasting instant chicken bone broth with more nutrients, a whopping 10g collagen peptides per serving and none of the fat of traditional bone broth.
Ingredients
Hydrolysed Collagen Peptides (84%): bovine (type 1+3), Chicken (type II), Gelatine (bovine), Bell pepper, Onion, Chicken flavour, Jalapeno peppers, Marjoram, Yeast Extract, Oregano, Celery, Thyme, Rosemary, Parsley, Tumeric, Salt
Directions
Take 1 (one) heaped scoop (12 g) of broth powder (adjust for taste preference)
Add 250 ml (one cup) boiling water and stir well
Leave to stand for 2 (two) minutes
Drink straight from a mug! Enjoy as a soup or use as an ingredient in stews, risotto or your favourite recipes that call for stock.
Servings per container: 20 (makes 5 Litres of broth)
View ALL Products | Help | Register | Login