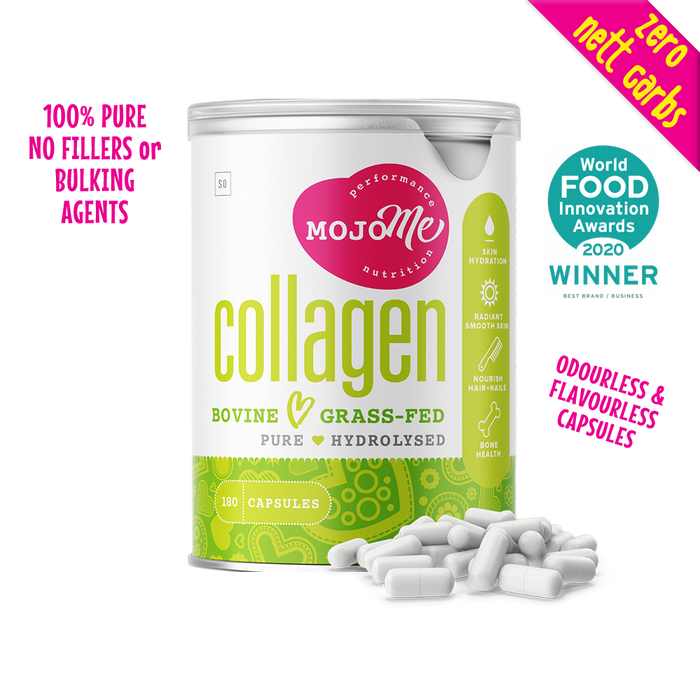 Collagen: Capsules BOVINE 180s
Original price
R 349.99
-
Original price
R 349.99
MojoMe's 100% Pure Hydrolysed BOVINE collagen peptides delivers the perfect combination of collagen Types 1 and Type 3 and because they're in capsule form, there are no nasty odours or flavours to contend with.

100% Pure Type 1+Type 3 Collagen Peptides
Type I is the most prevalent structural protein in your body (hair, skin, nails, bones, corneas and teeth). Type III is a gut health superfood and superhero for improved gut health and repair.
BOVINE CONTAINS MORE TYPE III, MAKING IT A BETTER CHOICE FOR THOSE SUFFERING FROM JOINT PAIN, LOSS OF MUSCLE MASS AND GUT-RELATED HEALTH ISSUES.
Excellent for healthy-agers, those with digestive issues, and anyone with an active lifestyle.
Improves appearance of skin, hair and nails
Increases skin hydration by 28%
Promotes bone strength, rejuvenation and repair
Supports digestive health
Impacts joint health and function
Reduces inflammation
Impacts detoxification and liver function
Supports weight management
Reduces blood sugar and boosts metabolism
Support lean muscle, tendon and ligament health
Sourced from grass-fed, pasture raised beef (bovine), their superior amino acid profile, characterised by the predominance of glycine, proline and hydroxyproline, represents  ±50% of the total amino acid content. This very specific composition cannot be found in other protein sources.
Ingredients
Hydrolysed Collagen Peptides (bovine) (100%)
HPMC Vegetable Capsules (Hydroxypropyl methylcellulose)
Directions
Take 6 capsules per day with a drink of your choice
Summary
Bovine collagen is a more cost-effective solution and might be the better choice if you suffer from muscle strength or gut-related health issues but also want healthy hair, skin, and nails.

Alternatively, Marine might be a better choice if you have skin and hair concerns or want faster results from collagen or don't consume beef products?
View ALL Products | Help | Register | Login