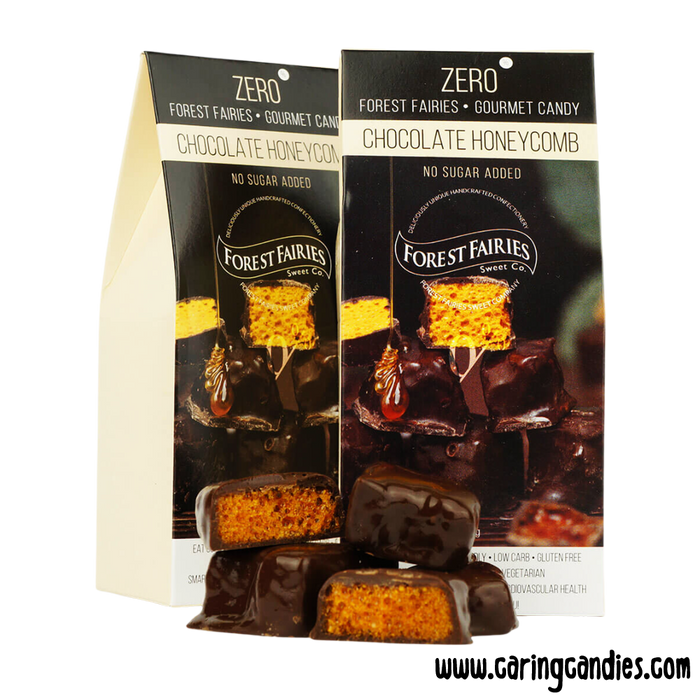 Sugarfree CHOC HONEYCOMB 60g
Original price
R 40.00
-
Original price
R 40.00
Suitable for Vegans, Diabetics, those with Coeliac Disease, the Health Conscious, and those following a Sugar-free, Gluten-Free, Dairy-Free, Banting, Keto, Low Carb or Halaal Lifestyle!
Crunchy chunks of light sponge candy smothered in a delicious sugar-free dark couverture chocolate.

Ingredients

Isomalt, Chicory Root Fibre, Carageenan, Flavouring, Bicarbonate of Soda, Stevial Glycosides, Cocoa Mass, Isomalt, Chicory Root Fibre, Maltitol, Cocoa Butter, Soya Lecithin, Vanilla Flavouring. Allergens: Contains Soya Lecithin. This product is made in a facility that uses tree nuts, peanuts, soya, wheat (gluten), eggs, and cow's milk
Storage instructions
Store in a cool, dry place away from heat.

Possible Laxative Effect
Sugar-free products work in the body like dietary fibre. For this reason, we recommend you limit yourself to around 25g per day in the beginning to avoid a possible laxative effect.
Shelf-Life
9 months from date of manufacture.
View ALL Products | Help | Register | Login