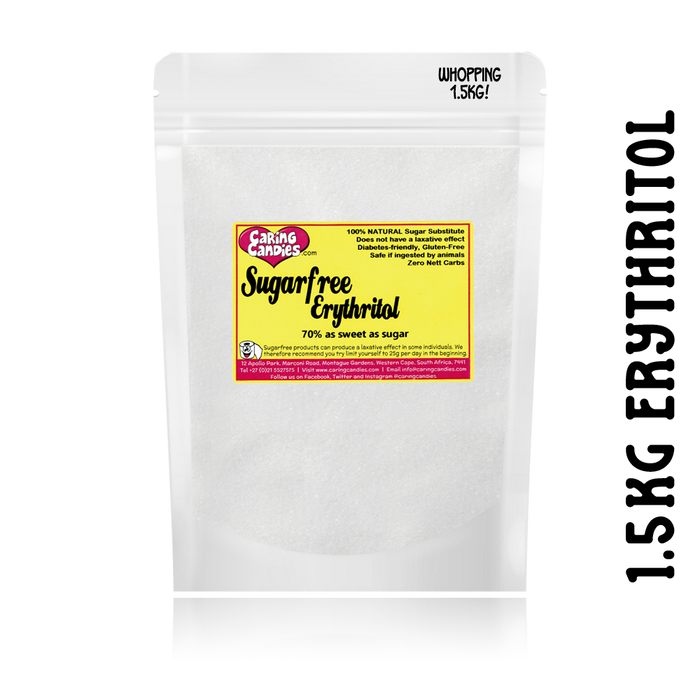 1.5kg ERYTHRITOL Natural Sugar Replacer
Original price
R 195.00
-
Original price
R 195.00
Suitable for Vegans, Diabetics, those with Coeliac Disease, Candida, the Health Conscious, and those following a Sugar-free, Gluten-Free, Dairy-Free, Banting, Keto, Low Carb, Kosher or Halaal Lifestyle!
Naturally found in melons and pears, Sugar free and Gluten free Erythritol is considered the "rolls royce" of natural sugar substitutes. Unlike Xylitol, the body fully absorbs Erythritol but can't break it down, so it provides (virtually) no calories and does not produce a glycemic response. In addition it does not cause any tummy discomfort and is perfectly safe should animals ingest it. It has 70% of the sweetness of sugar.
INGREDIENTS: Pure Erythritol Crystals (no bulking agents or talc have been added!)
ALLERGENS: None.
BENEFITS:
It contains almost no calories.
It doesn't raise blood sugar or insulin levels.
Human studies show very little side effects - mainly minor digestive issues in some people.
Studies where animals are fed massive amounts for long periods of time show no adverse effects.
SHELF-LIFE: 2 years from date of manufacture.