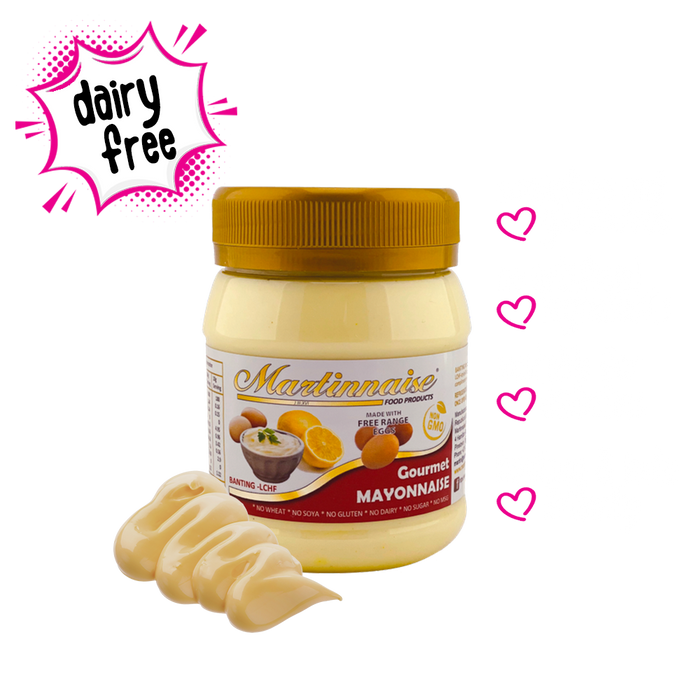 Mayo: GOURMET 400g
Original price
R 97.00
-
Original price
R 97.00
Suitable for Diabetics, those with Coeliac Disease, the Health Conscious, and those following a Sugar-free, Gluten-Free, Dairy-Free, Banting, Keto, or Low Carb Lifestyle!
Martinnaise Gourmet Banting Mayonnaise is a smooth and tangy avocado oil mayonnaise with delicious flavour notes of lemon, mustard, and grape vinegar with a hint of sweetness. It is smooth on the pallet and is full of the goodness of the natural ingredients they cram into every bottle.
Made with ethically sourced free-range eggs and locally grown and pressed Avocado oil that they collect fresh, directly from the farm. Only Banting and Keto-approved natural sweeteners are used, non-irradiated seasoning, natural lemon juice, preservative-free vinegar, and Himalayan Crystal Rock Salt.
It is free from sugar, soya, starch, preservatives, gluten, MSG, food colorings, artificial flavors, and flavor enhancers. All ingredients are certified non-GMO.
Ingredients are all Kosher and Halaal Certified.
Ingredients
Vegetable Oil (Avocado) (52%) Lemon Juice, Grape Vinegar, Free-range Whole Egg, Erythritol, Mustard Seed, Garlic, Himalayan Crystal Rock Salt, Xanthan Gum. Allergens: Contains Eggs

Typical Nutritional Information
Serving Suggestions
Martinnaise Gourmet Banting Mayonnaise transforms any filling for sandwiches to an absolutely taste romance in your mouth. Smother your next green salad in a creamy blanket of this delicious mayonnaise. If you are feeling creative, you will find that it lends itself well as a gourmet base to create your very own Banting dips and bastings. Turn boiled eggs into mouth-watering deviled eggs that will leave your tummy satisfied and satiated for hours.

View ALL Products | Help | Register | Login