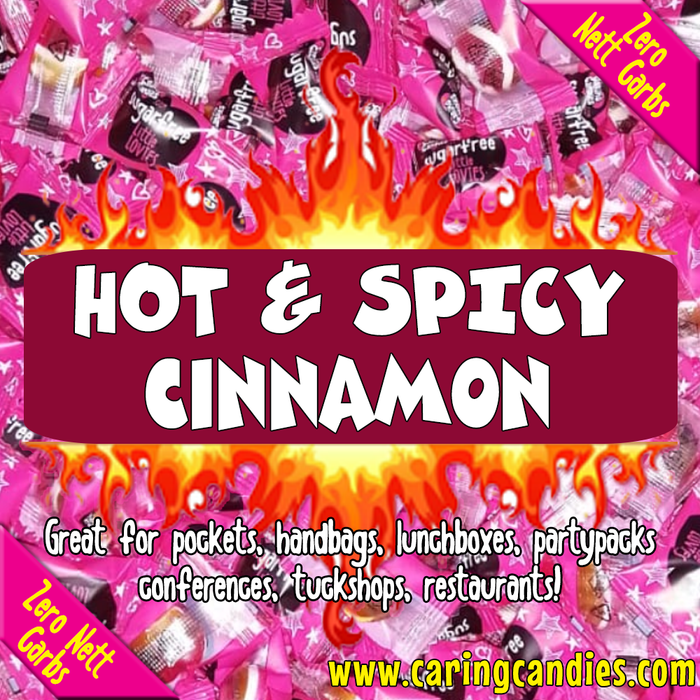 Bulk Saving: 1kg Sugar free HOT & SPICY CINNAMON Little Lovies Sweets
Original price
R 282.20
-
Original price
R 282.20
Suitable for Vegans, Diabetics, those with ADD/ADHD, Coeliac Disease, the Health Conscious, and those following a Dairy-free, Gluten-free, Low Carb, Keto, Banting, Kosher or Halaal Lifestyle!
Our Caring Candies Sugar free Hot & Spicy Cinnamon Little Lovies Packs contain individually wrapped (recyclable material!) hard boiled candies.

We use only natural or nature identical flavourings and natural colourants and no artificial sweeteners or preservatives.
INGREDIENTS: Isomalt*, Water, Cinnamon Flavouring, Natural Colourants (Aqueous Apple Extract, Beetroot Juice Extract, Turmeric Root Extract, Red Cabbage Vegetable Juice). ALLERGENS: None.
*Isomalt is a natural sugar-free sugar substitute, which has zero glycaemic carbs, is tooth-friendly, and is ideal for diabetics or those following a low carb lifestyle.
STORAGE INSTRUCTIONS: Store in a cool, dry place away from heat
POSSIBLE LAXATIVE EFFECT: Sugar-free products work in the body like dietary fibre. For this reason, we recommend you limit yourself to around 4-5 Little Lovies per day in the beginning to avoid a possible laxative effect.
 SHELF-LIFE: 2 years from date of manufacture.