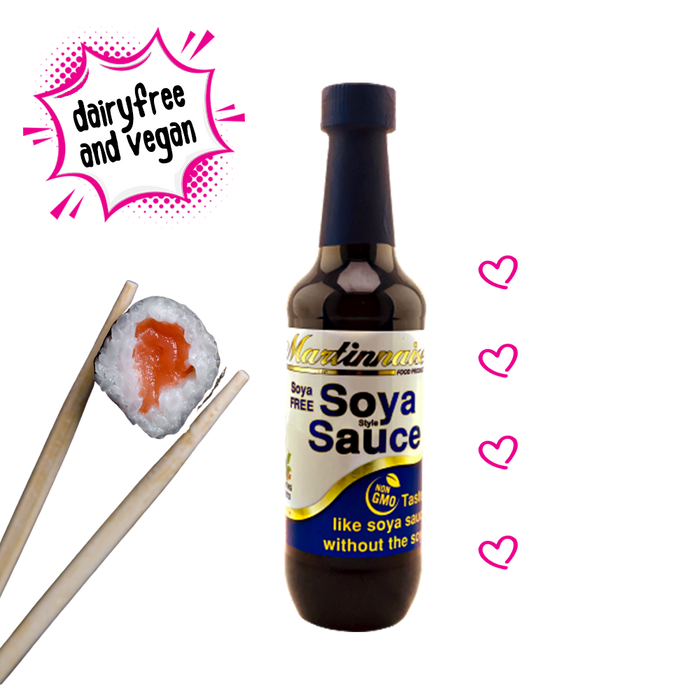 Sauce: SOY-style 250ml
Sold Out
Original price
R 75.00
-
Original price
R 75.00
Thanks for signing up for restock notifications!
There was an error signing up for restock notifications. Please try again.
Suitable for Vegans, Diabetics, those with Coeliac Disease, Candida, the Health Conscious, and those following a Sugar-free, Gluten-Free, Dairy-Free, Banting, Keto, or Low Carb Lifestyle!
This (Soya Free!) Soy-style Sauce from Martinnaise is a delicious alternative to traditional soya sauce for those who avoid soya or that have soya allergies. This sauce tastes like soya sauce but has no soya whatsoever!
Made with natural, non-GMO ingredients and carefully blended and flavored with fragrant balsamic vinegar (made from black grapes grown in the sun-kissed vineyards of Italy), vegetable extracts, and seasoned with Himalayan Crystal Rock Salt. This product is sugar-free, gluten-free, soya-free, and does not contain any preservatives or artificial flavouring.
Ingredients
Purified Water, Balsamic Vinegar, Himalayan Crystal Rock Salt, Xanthan Gum, Flavouring, Xanthan Gum, Caramel Colouring. Allergens: None.
Serving Suggestions
Being the closest thing to real traditional fermented soy sauce, it is a tasty alternative for those who avoid soya in their diets and for people who are allergic to soya but still want the taste to experience the traditional soy sauce adds to food. It can be used in food preparation wherever as a replacement for soy sauce.