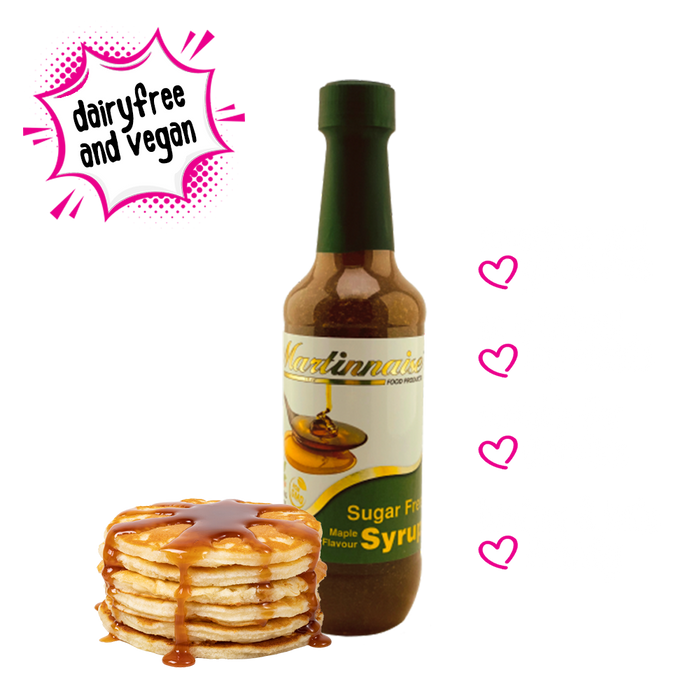 Syrup: MAPLE flavour 250ml
Original price
R 79.00
-
Original price
R 79.00
Suitable for Vegans, Diabetics, those with Coeliac Disease, Candida, the Health Conscious, and those following a Sugar-free, Gluten-Free, Dairy-Free, Banting, Keto, or Low Carb Lifestyle!
Martinnaise Sugar-Free Syrup is a deliciously sweet, sugar-free syrup alternative that can be used in place of the classic sugar base syrup. Inspired by the real Canadian Maple Syrup, Martinnaise have modelled this product's colour, consistency, and taste to be as close to the original as possible. We hope you enjoy this syrup as much as we do!
This Sugar-Free Syrup is made with non-GMO Xylitol and Erythritol and Maple Syrup flavoring. It does not contain any refined sugar and also no artificial sweeteners of any description. This product is preservative free, gluten-free, contains no MSG and is also soya free. All ingredients are both vegan and Keto/Banting friendly.
Ingredients
Purified Water, Xylitol, Erythritol, North Atlantic Non-iodised Sea Salt, Xanthan Gum, Maple Syrup Flavouring, Caramel Colouring. Allergens: None.

Typical Nutritional Information
Serving Suggestions
Martinnaise Sugar-Free Maple Syrup can be used in all diets to replace syrup in most applications where conventional syrup would be required. It is delicious on homemade ice cream (vegan or dairy), over fruit salad, on buttered toast or a peanut butter sandwich. We are sure you will find many more uses and would love to hear from you on your favourite way to enjoy this guilt-free syrup!
View ALL Products | Help | Register | Login