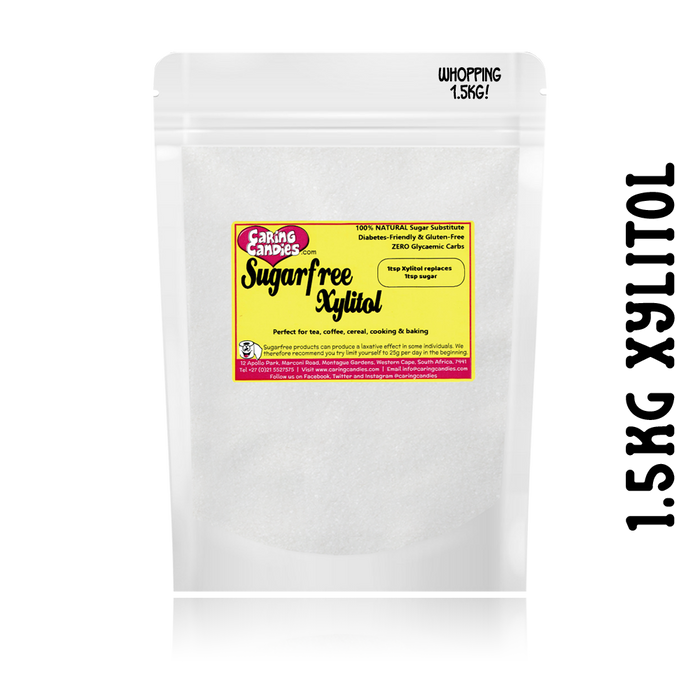 1.5kg XYLITOL Natural Sugar Replacer
Original price
R 205.00
-
Original price
R 205.00
Suitable for Vegans, Diabetics, those with Coeliac Disease, Candida, the Health Conscious, and those following a Sugar-free, Gluten-Free, Dairy-Free, Banting, Keto, Low Carb, Kosher or Halaal Lifestyle!
Our 100% Pure Caring Candies Sugar free and Gluten free Xylitol crystals contain no bulking agents or fillers. With zero glycaemic carbs this is the IDEAL sugar substitute for Diabetics, the health conscious, and those following a low-carb lifestyle. It looks like sugar, tastes like sugar, but has none of the nasty effects of sugar!
INGREDIENTS: Pure Xylitol Crystals (we have not added any bulking agents, fillers, or talc).
ALLERGENS: None.
Our Xylitol, as with most Xylitol these days is sourced from corn cob. Whilst some people prefer birch to the corn variety because they have a corn intolerance, when the corn product is finished in the production process, there are no proteins left over to provide any allergen which may cause a corn-based reaction.
SHELF-LIFE: 2 years from date of manufacture.