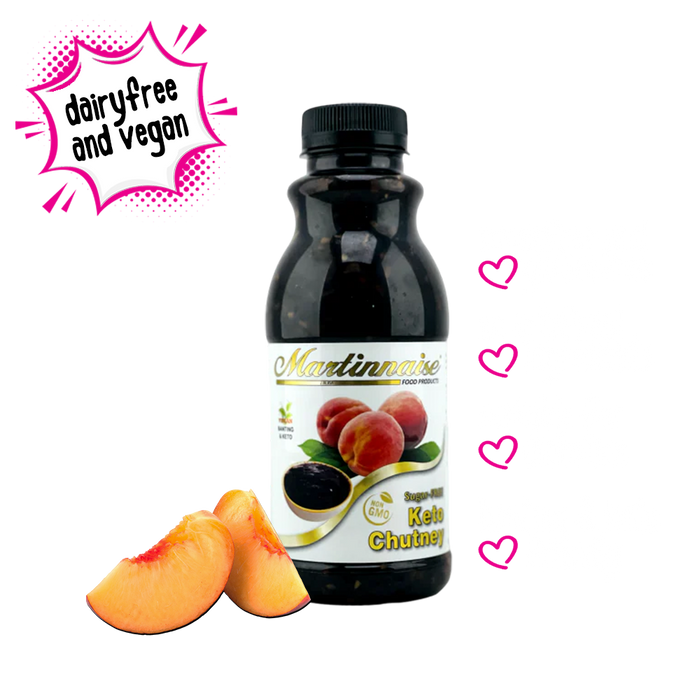 Sauce: CHUTNEY 500ml
Original price
R 95.00
-
Original price
R 95.00
Suitable for Diabetics, those with Coeliac Disease, the Health Conscious, and those following a Sugar-free, Gluten-Free, Dairy-Free, Banting, Keto, Low Carb , or Vegan Lifestyle!
Martinnaise Keto Chutney is a delicious, sweet, and fruity low-carb chutney that can be used in any application where you would normally use chutney, in this instance, it is just low-carb and guilt-free! Inspired by the taste of a well-loved traditional fruity South African chutney, we hope you will enjoy this one that tastes great straight out of the bottle!
This product is sugar-free, gluten-free, and does not contain MSG, preservatives, or artificial colors. All ingredients are non-GMO, and it contains no animal products of any description.
Ingredients are all Kosher and Halaal Certified.
Ingredients
Purified Water, Xylitol, Erythritol, Onion Flakes, Tomato Flakes, Spices, Garlic, Xanthan Gum, North Atlantic non-iodized Sea Salt, Spice Oleos, Citric Acid, Stevia, Caramel extract
View ALL Products | Help | Register | Login