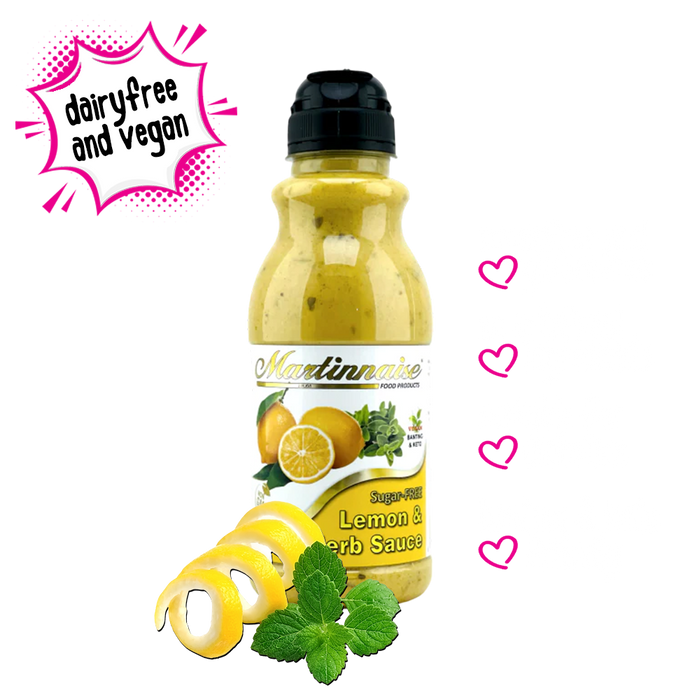 Sauce: LEMON/HERB 500ml
Original price
R 79.00
-
Original price
R 79.00
Suitable for Diabetics, those with Coeliac Disease, the Health Conscious, and those following a Sugar-free, Gluten-Free, Dairy-Free, Banting, Keto, Low Carb , or Vegan Lifestyle!
Martinnaise Keto Lemon & Herb Sauce is a creamy and delicious sauce ideal for cooking, as a marinade, and as a condiment or salad dressing. With distinct lemon and herb flavour underscored by gentle notes of garlic and umami. This tastes like real lemon because we only use real lemon and real concentrated lemon extracts!
This product does not contain MSG, preservatives, or artificial colors. All ingredients are non-GMO and it contains no animal products of any description.
Ingredients are all Kosher and Halaal Certified.
Ingredients
Purified Water, Spirit Vinegar, Fruit Oil (Avocado), Erythritol,  North Atlantic Sea Salt,  Vegetable Protein (Pea), Lemon Juice, Lemon Extract, Spices, Garlic, Xanthan Gum, Onion, Vegetable Oleos
View ALL Products | Help | Register | Login