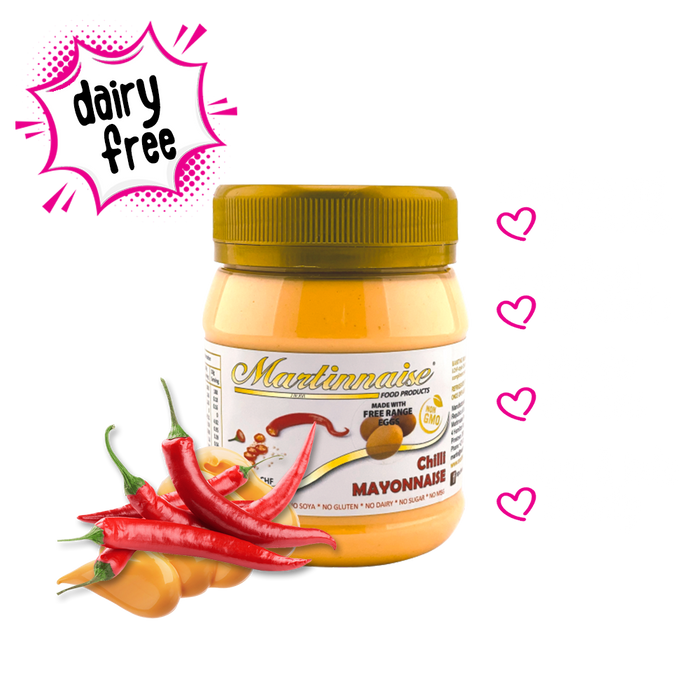 Mayo: CHILLI 400g
Original price
R 97.00
-
Original price
R 97.00
Suitable for Diabetics, those with Coeliac Disease, the Health Conscious, and those following a Sugar-free, Gluten-Free, Dairy-Free, Banting, Keto, or Low Carb Lifestyle!
Martinnaise's Chilli flavoured Banting / Keto Mayonnaise is smooth and creamy and made with avocado oil. Its taste superbly captures the warm picante flavour of chilli in harmony with sun ripened tomatoes, crisp red peppers and a bouquet of spices that makes this a delightful and versatile chili mayonnaise.
Made with ethically sourced whole free range eggs and locally grown and pressed avocado oil that we collect fresh directly from the farm where it is grown and pressed. The generous flavours come from chilli, sun ripened tomatoes, red peppers and non-irradiated spices, vegetable and spice extracts and Himalayan Crystal Rock Salt. This product is gluten free as well as dairy free. Is is also free of sugar, soya, starch, preservatives, gluten, MSG. All their ingredients are certified non-GMO.
Ingredients are all Kosher and Halaal Certified.
Ingredients
Vegetable Oil (Avocado) (52%) Lemon Juice, Grape Vinegar, Free-range Whole Egg, Erythritol, Mustard Seed, Himalayan Crystal Rock Salt, Garlic, Chilli, Spices, Xanthan Gum. Allergens: Contains Eggs.

Typical Nutritional Information
Serving Suggestions
This delightful chilli mayonnaise is enjoyed in so many ways, like sandwiches, a condiment with some dishes and even for flavouring when cooking. Yummy! It really leans itself well to use in a variety of salads. Let your imagination run and don't ever be afraid to experiment. This mayonnaise is 100% Keto and Banting and also lacto-ovo vegetarian friendly.
View ALL Products | Help | Register | Login